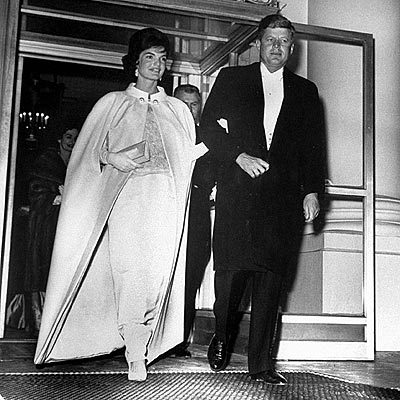 From her first night as first lady and beyond, Jackie Kennedy's fashion choices rarely disappointed. She immediately cemented herself as a style icon, beginning with the Oleg Cassini gown she wore to the Inaugural Gala the previous night, and following up with this dress, which she co-designed with Bergdorf-Goodman's, the next evening. Details about Jackie's wardrobe are, naturally, included in
O! Jackie
, along with interesting stories behind the various looks. Find out how she set herself apart from the other Kennedy women, and peek in on the argument Jackie and JFK had the night before his historic moment. And find out how Jackie's beloved friend and designer, Oleg, helped her through a traumatic event and saved a well-noted dinner party.
O! Jackie
celebrates the clothes and the moments that made Jackie Kennedy unforgettable. And
O! Jackie
explores quite a few moments the first lady would like to forget....